Sushma Chandigarh Grande NH 22 Zirakpur +919988002525 - Chandigarh
Wednesday, 26 October 2011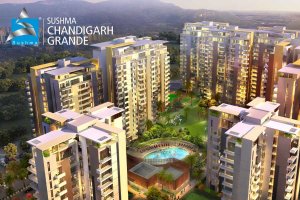 Contacts

Anil Kumar

9988002525
Item description
AT SUSHMA WE WANTED
TO SETTLE FOR
NOTHING BUT THE BEST

Good is not great and great is not the best. Tall claims fall when they are not backed by
Substance. We understand a home is much more than just four walls, a roof and a few
amenities.It's about finding the right living space at the right location. For that we started
On the right foot and picked the best location in Zirakpur on the Chandigarh-Ambala
National Highway.

When that was not enough for us, we traveled 10,000 miles across the seven seas to get you
one of the world's most renowned architecture firm R204DESIGN from Los Angles,
USA to design and plan a project that would forever change the face of Zirakpur. A lot of
People ask us why R204DESIGN. The answer is very simple – We wanted to give you the
Best from across the globe.

The minute we came across R204DESIGNS, looking at their magnificently planned
Projects with minute detailing done in Switzerland, Saudi Arabia, Netherlands, China Japan, Damascus, Bahrain, California and Many others, we realized they were the best
Suited for the project.

Gaze through the intricately planned project and you will feel the difference between a
good project and the best one starting from the beautifully landscaped surroundings,
Meticulously planned internal traffic management to innovative usage of lifestyle spaces.
Here every amenity possible is a given, amenities including professional cricket practice
Pitches, golf putting range, tennis courts, skating rink, basket ball courts, central and
Children's park, meditation garden and one of its kind club house redefining the concept
of good living.

It would be apt to say that SUSHMA has once again given its customers an unparallel and
Elaborately planned project of such scale that will redefining the benchmark of living spaces
In Zirakpur.