Buy Certified 4.64 Ct. Sri-Lankan Yellow Sapphire (Pukhraj) From Realstone Lab - Chandigarh
Thursday, 9 May 2019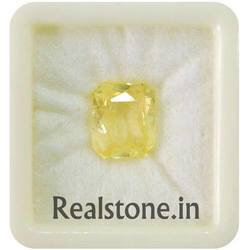 Contacts

Upender

9896767604
Item description
Buy Realstone Lab certified 4.64 Carat Sri-Lankan yellow Sapphire (Pukhraj) Gemstone from Realstone at most reasonable prices across the Globe. 100% Natural, Effective, purified and Energized Yellow Sapphires (Pukhraj) for potentiating the positive energies of planet Jupiter (Brihaspati) in one's life.
4.64 Ratti (Carrat ) – Price : Rs. 5500 per Ratti. only
Buy from Realstone Lab - The Oldest (since 2001) and the most trusted Company for Gemstones at wholesale prices.