Provide Industrial Training of CCNA/CCNP - Chandigarh
Sunday, 24 December 2017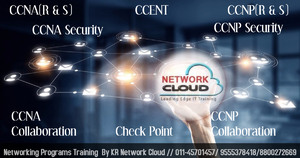 Contacts

kr network cloud

09555378418
Item description
KR Network Cloud is a Delhi based IT training organization managed by a group of experts from the IT Industry. We provide high-end latest technology training in Hardware, Software, Networking. KR Network Cloud conducts CCNA, CCNA Wireless, CCNA Wireless, CCNA voice, CCNA voice, CCNA Routing & Switching, CCNA Routing & Switching, CCNA Security, CCNA Security, CCNA SP operations, CCNA SP operations training in Delhi
Period of Training: – 6 weeks, 45 Days, 60 Days, 90 Days and 120 Days, 6 months.
Deliverable
• Project Certificate & Training Certificate from KR Network Cloud
• 24 x 7 Lab Facility
• Comprehensive Study Material for Reference
• Resources / Tools
• Practical Exposure by getting hands-on experience at our well-equipped labs.
• Our Placement Support: - 100% Job Guarantee after completion of Project Training.
Address:
C-3/207, Second Floor, Kanishak Complex
Near Maharaja Banquet
V3S Mall, Nirman Vihar Metro Station, Delhi-110092
Contact: PRIYA (8800272669 / 9555378418 /011-45701457 / 011-42041399
KR Network Cloud Technologies Pvt. Ltd.