Best IELTS and spoken english coaching - Chandigarh
Tuesday, 25 November 2014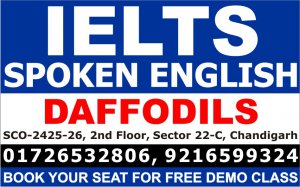 Contacts

HARPREET KAUR

9216599324
Item description
Daffodils English Academy is one of the best academy with Qualified Trainers. We prepare for a top PTE/IELTS score, provide individual attention to every student, we train you for PTE/IELTS in accordance with based lesson plan, top broadly and extensively cover all the skills tested on Exam. We have the best teaching methods in the town. Our training's are designed to give the candidates sufficient practice in the techniques required for taking the PTE/IELTS Test with full confidence for scoring high bands. Our Faculty specially provides tailored training programme which boosts the candidates and give enough confidence to enable the student to score high in PTE/IELTS test. During the training, our expert trainers will help the students to improve their language proficiency by providing input and practice worksheets.
Details of our Training's:
• Regular batch (Monday to Saturday)
• Late Evening Batches are also available.
• Crash course (2 weeks) 2 modules per week plus 15 days practice session is also available
• Weekly mock test on Saturday.
• Weekend batches also available.
• Course starts/new batches starts every week
• Daily Performance evaluation
• Timings Available
"For PTE/IELTS : 7am to 9am, 7am to11am, 9am to1pm, 9am to 4pm, 12pm to 6pm, 2pm to 6pm, 6pm to 8pm.
For Spoken English: 7am to 9am, 9am to 11am, 11am to 1pm, 2pm to 4pm, 4pm to 6pm, 6pm to 8pm"
Course Features:-
• Guaranteed Results
• Trained Teachers
• Flexible Schedule
• For all levels
• Making Introductions
• Conversations Practice
• Vocabulary
• Role plays
Contact: Daffodils English Academy, SCO : 2425-2426, 2nd floor, Sector-22C, Near Aroma Hotel, Chandigarh.
Contact Number : 0172-4606666, 9216599324"