Best Six Months Six Weeks Industrial Training In Chandigarh - Chandigarh
Wednesday, 26 March 2014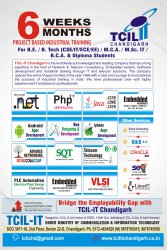 Contacts

Manoj Dhiman

9876795015
Item description
TCIL-IT Chandigarh as one of the pioneer training company in the northern region imparting quality industrial training by keeping in mind always to bridging the gap between an institute and corporate world, where thorough professionals can only survive. TCIL-IT Chandigarh managed by ICSIL(Joint Venture of Delhi State Industrial Infrastructure Development Corporation(DSIIDC), An undertaking of Delhi Govt. & TCIL, A Govt. of India Enterprise under Ministry of Communications & Information Technology, Govt. of India) is offering 6 Weeks/Months Industrial Training in latest technologies and entrepreneurship programs for MCA, B. Tech. (CSE/ IT/ ECE), BCA & Diploma (CSE/ IT/ ECE) students.
There are number of companies that facilitating industrial training but you have to choose a best company. TCIL-IT is best and well known company in Chandigarh that provides best industrial training for all courses related to IT and telecom field. We have a strong foothold with good reputation in this field from last many years. Candidates after getting trained through us are definitely placed in big industry. Our experts give you guidance about all detailed concepts of respective course and also help you in solving problems during live project work.
TCIL-IT assures you to provide job oriented and skill based training program so that you will be able to get good position in top company.
The interested and aspiring engineering students can check the detailed contents on our website: www.tcilitchandigarh.co.in or email us on tcilchd@gmail.com.

If you have any further queries or would require any further details, please feel free to get in touch with us.

For more details, you can visit our office in person or call us at : 098767 95015, 09876745599, 0172-463 4529, 0172 - 270 5015.