Online Cat Exam Preparation Coaching By Quantifiers - Chandigarh
Monday, 20 February 2023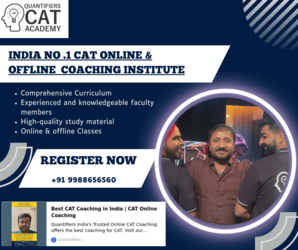 Contacts

Quantifiers

9988656560
Item description
Are you planning to take the CAT exam but feeling overwhelmed by the preparation process? Look no further than Quantifiers - India Best Online Cat Exam Preparation Coaching institute!

Our expert coaches offer personalized coaching sessions to help you prepare for the CAT exam. Whether you're struggling with specific topics or just need guidance on how to approach the exam, our coaches can provide you with the tools and strategies you need to succeed.

With our online coaching platform, you can access our services from the comfort of your own home. Our coaches use video calls and messaging to connect with you and provide you with feedback on your progress, making it easy to fit coaching sessions into your busy schedule.

At Quantifiers, we believe that with the right preparation and guidance, anyone can succeed on the CAT exam. Let us help you reach your full potential and achieve your academic and professional goals.

Don't wait - contact us today to schedule your first coaching session!