Required PHP Developer Mohali ( WordPress, Drupal, Joomla, Magento, Core PHP - Chandigarh
Wednesday, 26 February 2014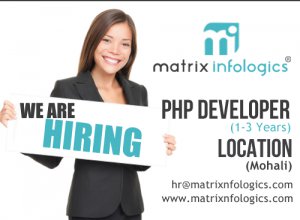 Contacts

Muskaan Sharma

9815845530
Item description
We are seeking for passionate, capable, and motivated hands on web development with a resourceful edge, well-built problem-solving skills, and a unyielding software development foundation. Were looking for somebody who innovates, loves solving hard problems, and never takes 'no' for an answer.
Key Skills:
• Experience of 1-2 years in Web development in PHP( with MVC based PHP Framework such as Code Igniter, Cake PHP or Zend
• Admirable verbal & written communication skills
• Exceptional Programming Skills
• Experience in building high-volume, highly-scalable custom websites
• Should be self propelled with proven capacity to deliver projects on time
• Should have experience in E-Commerce Projects
Requirements:
• Strong technical experience in PHP, MySQL, Jquery, Java script
• Dexterous in at least one of the popular CMS (WordPress, Joomla, Drupal, Dolphin, Magento or Os Commerce
• Expert at one the Frameworks (Yii, Smarty, CakePHP, Zend, MVC or CodeIgniter
• Creating technical specifications.
• Write quality source code to be delivered on time, which meets defined project standards and deadlines.
• Perform unit testing on source code where required, prior to handover to test/ quality assurance teams
• Perform maintenance on source code, analyzing and fixing bugs where necessary.
• Periodically design and implement custom enhancements for specific client requirements
• Act upon occasional evaluation of new technologies and methodologies for use within the projects to be developed.