ABACUS Training (5yrs. to 15 yrs. age group) & Superfast Calculation (12yrs. + - Chandigarh
Monday, 30 January 2012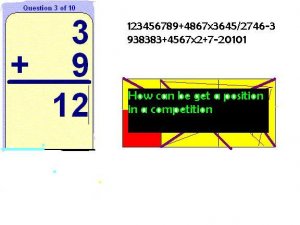 Contacts

Farooqi

9041414322
Item description
Dears
We are giving a special class for Abacus in Chandigarh and surrounding areas.
As you know that if a students is written from right hand then it indicate that his/her left side brain is active i.e. that student are using left side brain.
Similarly, if any students doing work from left hand then it indicates that right hand side brain is active.
To active other side brain there are some methods:
1. Chess
2. Puzzle
3. Abacus
As you know that brain development age is divided in two age group:
1. 1 to 3 years (maximum development age
2. 4 to 15 years.
For Abacus training, the students of age group between 5 yrs. to 15 years are perfect to develop their brain.
As you know that children between age 5 yrs. to 15 yrs. can play video games better with using their fingers. Same is apply in case of ABACUS course.
For more detail contact on phone.